So I know an article about the objectification of women isn't quite Syria, but with Israel talk getting ever more "aggressive", every Shia terrorist network in the area appearing on the scene, and Egypt's recent leadership crisis threatening to alter the strategic balance back towards secularism...I'm going to leave it another week before I attempt to write it out again, lest it quickly become invalid.
So I move onto something probably more dangerous than writing about a war-zone. Gender Politics. A topic I happen to know a lot about, but that won't matter because it is also a topic everyone just loves to get angry about. So like, chill for a bit. I'm just here to point out some hypocrisy and then I'll be on my way. I've got an article on the way about my Feminism anyway, so I'll say the stuff that'll really get people angry for that.
(I'm also currently placing bets on whether I'll have someone try and point out a "flaw" in my logic. I almost hope so)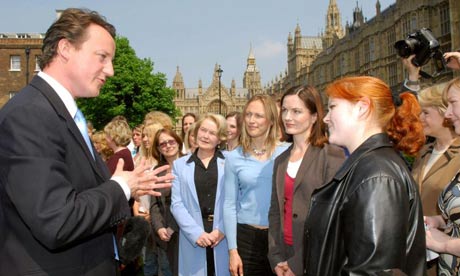 Pictured: David Cameron attempts to connect with Women voters. Assumed failure.