There are somethings you expect never to have to write about, one of them for me, even without my knowledge, was an article on a Microsoft mascot who always happened to be an anime magic girl for the default Windows browser Internet explorer. But hey, time makes fools of us all, and I'm now about to post beneath this very paragraph the (pretty excellently) animated two minute battle video charting the struggles of one Inori Aizawa. After that, I'll try and explain the thinking behind it...If there was any.
As I said, very pretty, nice music as well, reminded me of Rusty Hearts.
(Oh yeah, before I continue, Poetry corner is delayed because of an imposing essay on French Communism I've been neglected. Also, yes, the rumours are true, Star Wars auditions are being held in Bristol, and yes, I will be trying out, and yes, mainly to try get JJ Abram's ear to not direct another Star Wars movie: Might be an article later in the week, anyway, topic at hand).
So yeah, I'm a self admitted anime fan, so I guess I should be the most receptive of Western audiences to this...and I don't really get it. The premise is that the magic girl transformation scene we see (complete with implied nudity, 10 points for sticking to source material) is symbolic of the transformation of Internet Explorer from the buggy piece of shit that we all know and hate, to something cool, streamlined and apparently cutesy as hell.
So we start with a rather battered looking Inori getting her pre-transformation ass kicked across the floor by what I can only assume are suppose to be viruses or something. After a bit of being knocked about, she drops a weird shield thing on the floor, which she will then immediately pick up to not only deflect a laser blast, but also start her "awesome", quarter of the video length transformation into the "new Internet explorer" which apparently has a dashing mini-skirt, mech arm and energy shield...
Count me in Microsoft! Not even sure if I'm joking anymore
Billions of dollars went into scientifically designing her to be cute.
I'm actually told that this was designed to launch with the introduction of Internet Explorer to Singapore, and perhaps it'll work really well. I mean Firefox and Google Chrome don't have a cute Anime girl personification so that is definitely a thing IE now leads the field in. I think the video also lends itself to a sequel, as the penultimate shows Aizawa facing down against a giant virus thing in her new form. (Hint: The Ultimate shot is Aizawa with her adorable cat sidekick)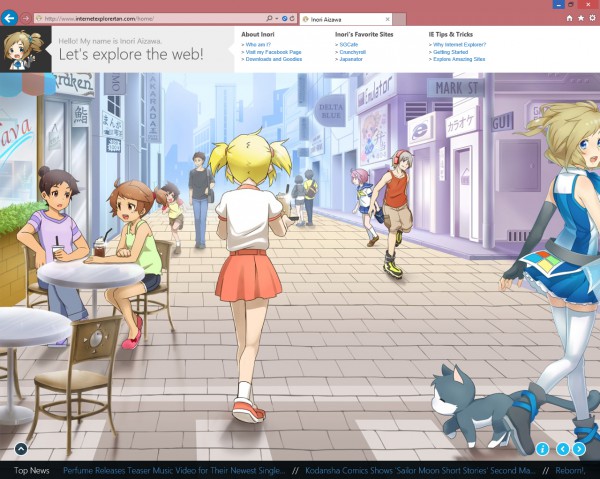 If you download the Anime version of IE you get plenty of scenes like this...
The joy!
I have literally no idea if Microsoft intend to expand this concept, I guess the hard part of designing Inori and her world has already been done, I imagine it'll be down to the reception of video, though I have no idea how you track the success of a programme that literally comes pre-installed on every computer shipped with Windows. It'll be interesting to see what Microsoft deems a success.

I'm actually pretty interested if any of the related merchandise that comes with Anime characters will appear, Inori Aizawa Statuettes? Dakimakuras? (google it) Visual Novel Dating Sim? I can only imagine some
loser will make a lot of Pornography, it is seemingly inevitable.
Apple? Mozilla? Google? Need to retort, I got you covered guys, don't worry.
(Crossover anime when? I'm thinking the Anime Avengers of Browsers)


Oh yeah, she also has a Facebook page/website where you can "download her" (AKA, Internet Explorer) and it seems like they are pretending it is actually her talking...

Yes, Microsoft made a virtual Waifu, stay weird Internet. Stay weird.

(Next article will either be Poetry Corner or "How the Star Wars audition went", depending on how quickly this essay gets done. Truly sorry for the delay)