So I know an article about the objectification of women isn't quite Syria, but with Israel talk getting ever more "aggressive", every Shia terrorist network in the area appearing on the scene, and Egypt's recent leadership crisis threatening to alter the strategic balance back towards secularism...I'm going to leave it another week before I attempt to write it out again, lest it quickly become invalid.
So I move onto something probably more dangerous than writing about a war-zone. Gender Politics. A topic I happen to know a lot about, but that won't matter because it is also a topic everyone just loves to get angry about. So like, chill for a bit. I'm just here to point out some hypocrisy and then I'll be on my way. I've got an article on the way about my Feminism anyway, so I'll say the stuff that'll really get people angry for that.
(I'm also currently placing bets on whether I'll have someone try and point out a "flaw" in my logic. I almost hope so)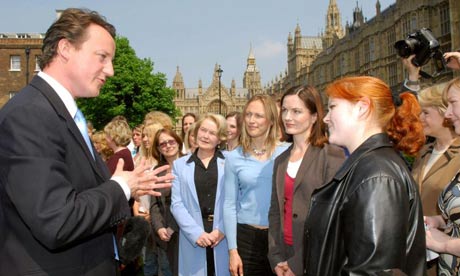 Pictured: David Cameron attempts to connect with Women voters. Assumed failure.
So for this article to make sense you need to know of two different news stories. The first is a long running movement by proto-feminists and actual feminists alike to ban something called "Page 3", now I'm not sure if Page 3 is a thing outside of the UK, but if not, the concept is that on the 3rd page of the newspaper there will be a scantily clad woman, I assume it exists on the 3rd page for easy access. Normally this woman will have a paragraph of her "opinions and likes" as far as I'm aware, though I guess to what extent she contributed to that is debatable.

Now this is a topic that has divided some of my friends, so I tentatively answer that while I have never enjoyed looking at Page 3 (Because really how much enjoyment can be garnered from looking at a static image of a generic woman). Backed up by the fact that a Newspaper, an item people buy to become informed of the news, is not the place for an irrelevant human form, to ban it is to complete miss the point. Telling a populace that cannot look at something is the same moral vulgarity as the Newspapers currently saying you must. The case for banning it is fundamentally flawed, unfortunately. You must make "The Sun" or whatever paper of choice retract it by itself, due to lack of popularity and public pressure. If people still buy The Sun for Page 3, as utterly regrettable and sad as that is, then I'm sorry, but you don't have my support. This culture of "We don't like this, it must go" has to stop, all groups need to be mature enough to realise that that is a mental approach to take to life.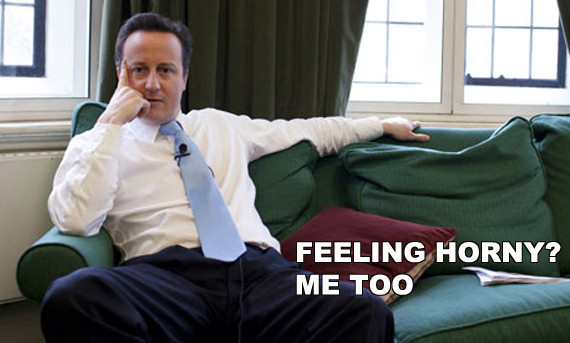 And now to the high politics of the matter. (Thanks Huff Post for this)
And, in a hilarious move for even for the Clown Prince of Parliament, David Cameron announced earlier in the week that he is "declaring War on Pornography", and while I don't for a second believe it is anything more than propaganda-esque bluster, then we all know how well Wars on a concept have gone recently. This news in isolation would've made for good hilarity, but it was backed up by his hypocritical statement that he wouldn't support a ban on Page 3.

Now, I don't know what age Cameron thinks he is supposed to be targeting with this ban, but if it is any vaguely reality reflecting age bracket then I imagine those children are much more likely to stumble upon a newspaper than a protracted period of time on their parents computer. Unless he really is targeting age 15, in which case he has rather missed the point. Irrespective of that though, I liked Cameron's denial because it highlighted a very significant thing that I think the (admittedly holding good intentions) Page 3 campaigners have missed. The aforementioned ludicrousness of simply declaring war on something you don't like. By all means try and change it, but mutual consent is important.


A cheap jab at the Mail, who I'd love to respond to my article.
So sorry to rant on, but I needed this codified, and more importantly scrutinized. I hate to see otherwise logical groups and people fall off that outstanding high-ground for the sake of a few petty beliefs. It is deeply saddening and utterly avoidable. Page 3 does seem irrelevant to me, as I hope it does to you. But unlike, say, Religion, no-one has ever died of Page 3 (If someone has died of Page 3 inform me immediately) so until the rest of the world catches up to reason (And foolishly I believe they will) then unfortunately I'm of the mindset we will just have to wait.